Known Issues
Source: Knowledge Base Autodesk
Issue:
The Custom Integrations (APPS) tab is missing from BIM 360 Account Admin module. The Custom Integrations tab may have appeared on a previous BIM 360 account.
Note: The APPS tab was formerly "Apps & Integrations."
Causes:
By default, the "Custom Integrations" tab is only visible for accounts with 100 or more users.
Note: Even if the account has 100 or more users, the Custom Integration tab might still need to be activated manually by the Development Team.
Solution:
To have the Custom Integrations tab activated for a BIM 360 account, send an email to bim360appsactivations@autodesk.com. The subject line should be, "BIM 360 Docs – API Activation Request." Include the following information in the body of the email:
BIM 360 Account ID.
BIM 360 Account Name.
BIM 360 Account Admin email address.
Find Account ID here: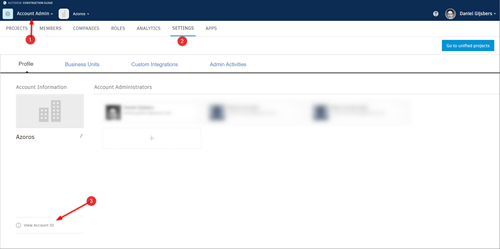 Without data, perception is reality!

John